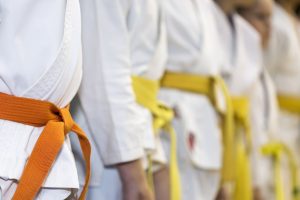 ---
Martial arts classes are a great way to improve balance and flexibility while at the same time learning self-defense skills.
Workout at a nearby Martial Arts Studio will save your time as well.
Nearby studios include:
ATA Martial Arts
Chris Tribble opened ATA Martial Arts in 2010 and is proud to call Fayetteville home. He is a graduate of the University of Arkansas and enjoys helping students improve their fitness. The studio is one of the premier martial arts destinations in Northwest Arkansas, and the adult program offers both traditional classes as well as the more modern defense styles such as kickboxing and Krav Maga.
Inferno Fitness & Martial Arts
At Inferno Fitness & Martial Arts, the instructors must complete years of rigorous training before becoming certified. They're required to train weekly to keep current on the latest teaching methods and most effective self-defense techniques. They teach everyone from beginners to black belts, and students enjoy the laid-back atmosphere which makes learning fun. Classes include Brazilian jiu-jitsu, judo, and No Gi grappling (combines sambo, wrestling, and Brazilian jiu-jitsu).
Krav Maga Self-Defense Training Center
According to the studio, Krav Maga is a realistic self-defense course that anyone can do as it does not rely on power or strength. The husband and wife owners are committed to providing a program that empowers all students, and classes offer real-life scenarios, practical techniques, and intense training.
Impact Martial Arts
Nestled in nearby Springdale, Impact Martial Arts has offered instruction since 1989. The teachers combine the progressive techniques of mixed martial arts with the traditions and principles of the past. They offer structured classes in a supportive environment, and all students begin with basic training before being transferred to the black belt program.
These are just a few of the martial arts studios near The Academy at Frisco. If you're looking for a place to call home, please contact us to schedule a tour.