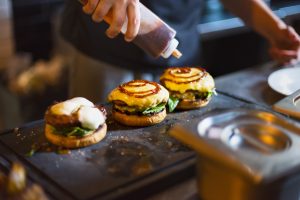 ---
In the mood for a burger and fries? You're in luck! Fayetteville is full of restaurants offering mouth-watering burgers and The Academy at Frisco is conveniently located near some of the city's best.
Here are four highly-rated burger places just minutes away from the apartment community.
Hugo's
Located less than a mile from The Academy, Hugo's is one the highest-rated burger joints in Fayetteville and has been since 1977. Diners can chow down on the restaurant's Traditional Hamburger, or choose another Hugo classic like the Jalapeño Cheeseburger or Nature's Burger. Want something sweet? Hugo's Grasshopper Crepes (stuffed with mint ice cream and covered with chocolate hot sauce) are a must.
Smitty's Garage
Craving a juicy burger? Smitty's is just the place to satisfy your hankering. Customers can dig into a classic hamburger, or they can opt for other tasty treats like tacos, nachos, or chili cheese dogs. Bison burgers are also on the menu, as are restaurant specialties like The Sticky Finger or the Spicy Guacamole Burger. Located just 4.5 miles from The Academy at Frisco, Smitty's hosts bingo every Thursday and is the perfect place to relax with friends.
Feltner Brothers
The family-owned Feltner Brothers> has something for everyone. The restaurant's specialty burgers include the Brobecue, Islander, and Guac This Way, though those looking for a classic burger won't be disappointed. Hot dogs, chicken strips, and Frito chili cheese pies are also on the menu. Located less than three miles from The Academy, Feltner Brothers recently earned a spot on 40/29 News' list of 5 Best Local Places for Burgers.
Star Bürgerhaüs
Star Bürgerhaüs serves up custom-made burgers, hand-spun milkshakes, and delicious fried pies. Customers also love the restaurant's Philly cheese steaks, and the fried onion straws pair well with anything. Located just over a mile from The Academy, Bürgerhaüs is a great place to grab a fresh, delicious burger while on the go.
Looking for a new apartment home? Contact us today to schedule a tour and learn about The Academy at Frisco's many amenities.