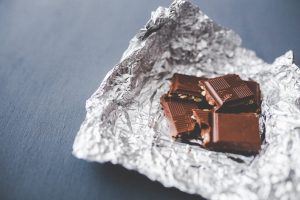 ---
Did you know that the word chocolate comes from "xocolatl," the Aztec word for bitter water?
More than fifty percent of American adults prefer chocolate to any other flavor, and whether you enjoy chocolate walnut fudge, chocolate covered caramels, or chocolate cherry bonbons, you'll find these treats and more at the following shops:
Kyya
At Kyya, the owners are passionate about chocolate in all forms, which is why they build relationships with international farmers and pay above fair trade prices for cacao. The store was the first bean to bar chocolate company in the state, and before opening, the chocolatiers made approximately fifty batches before they created the perfect recipes. The treats are free of additives and artificial flavors, and infused chocolate choices include espresso crunch, chai tea, and fruit implosion.
Rocky Mountain Chocolate Factory
When Frank Crail had a dream to raise his family and start a business in a small town, the Rocky Mountain Chocolate Factory was born in Durango, Colorado. In a Money magazine blind taste test, the shop beat out some of the country's most renowned companies as it offers the "richest chocolate with an intense natural flavor." The chocolatiers make a variety of goodies including chocolate walnut fudge, English toffee, and dark chocolate seafoam.
Ghirardelli Chocolate
Domenico Ghirardelli was born in Italy in 1817, and thirty years later, he changed his first name to the Spanish equivalent: Domingo. In 1849, he sailed to America where he opened a general store in Stockton, California that offered supplies and confections to miners. Domingo then founded Ghirardely & Girard, which is now known as the Ghirardelli Chocolate Company. It offers something for everyone with choices such as chocolate caramels, milk chocolate sea salt almond bars, and dark chocolate raspberry bars.
If you would like to call at The Academy at Frisco home, please contact us to schedule a tour. In addition to these shops, we are also near fun cultural attractions and top restaurants.