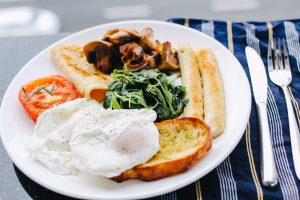 ---
Students who reside at the Academy at Frisco in Fayetteville, Arkansas know how important it is to get the day started right. This means not only waking up in a modern, urban style apartment, but also eating a great breakfast. Head to one of the following breakfast spots and see what it means to rise and shine with delicious food!
Prelude Breakfast Bar
Looking for simple with a twist of flavor? Head over to the Prelude Breakfast Bar for a meal you won't soon forget. Whether you choose plain or flavored pancakes, an egg dish, a Benedict, or an omelet, you certainly won't be disappointed with the fresh ingredients, friendly service, and outdoor dining option that is offered here.
Rick's Iron Skillet
When comfort food is what you need, then Rick's Iron Skillet is where you need to be! Family owned and operated for many years, this eatery offers simple, traditional breakfast dishes that appeal to all. Feel like you are part of the family in this cozy establishment.
Rolling Pin Cafe
If you need to grab a quick bite, yet don't want to sacrifice taste, then Rolling Pin Cafe is the place for you. Mouthwatering selections include chicken fried steak, biscuits and gravy, pancakes, omelets and more. Always feel welcome in this warm, friendly cafe whose specialty is a unique chocolate gravy that you simply won't find anywhere else!
Dirty Apron Bakehouse
When what you need is a freshly brewed cup of coffee and a delicious pastry or bread to go with it, look no further than Dirty Apron Bakehouse. The perfect place to grab an energizing bite before class, Dirty Apron Bakehouse has a fresh selection of your favorite treats. They utilize a French Baking Technique for bread that rises above the rest!
If you are interested in making our community your home, contact us today for more information!