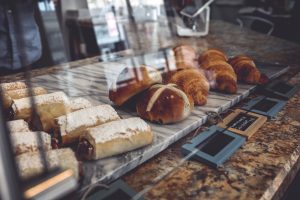 ---
Whether you're looking for a sweet treat or a loaf of bread to enjoy with dinner.
Head to one of the following bakeries where you'll find an array of delicious options:
Golden Kolache Bakery
Voted as the "Best Bakery in Arkansas," the Golden Kolache Bakery is famous for its scratch-made Tex-Czech kolaches. They're made daily using the finest ingredients, and the staff is known for being friendly, even first thing in the morning. Guests find the goodies are filled with traditional fruit fillings as well as savory ones including gouda & cheese, spinach artichoke, and bacon & cheddar.
Bliss Cupcake Cafe
It was in 2009 when the Bliss Cupcake Cafe opened just off the Fayetteville Square. The time-tested recipes received rave reviews, and are made by skilled bakers who start their day before the roosters begin to crow. Customers don't want to miss the deals that are only offered on social media, and cupcake flavors include blueberry cream cheese, chocolate covered strawberry, and cookie dough.
Little Bread Company
When Ben and Hannah founded their first wholesale kitchen in 2001, they didn't realize it would turn into a bakery that served dozens of items made from scratch. The Little Bread Company changed hands thirteen years later, and it has a 4.5-star rating on Yelp as customers appreciate the hipster vibe, fast service, and reasonable prices. The menu includes cinnamon rolls, lemon berry tarts, and chocolate sourdough bread.
Stone Mill Bread
Stone Mill is the premier bread company in Northwest Arkansas. It was founded by Dan and Karen Dantzler as they had visited the area and wanted to find a way to stay and raise their family in the Ozarks. The bread is made fresh using the finest ingredients, and the day's selection comes out of the oven around 9:00 a.m. Choices may include bronze honey wheat, onion herb rye, Montana multigrain, and more.
If you would like to call The Academy at Frisco home, please contact us to schedule a tour. In addition to these bakeries, we are also near fun cultural attractions and top shopping destinations.