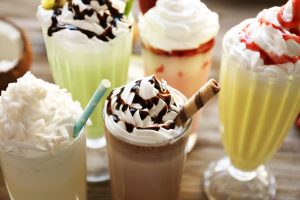 ---
Did you know that Steven Poplawski invented the electronic blender in 1922 just for [milkshakes]?(https://foodimentary.com/tag/milkshake-trivia/)
Whether you enjoy chocolate, vanilla, or strawberry shakes, you'll find these flavors and more at the following destinations:
Freddy's Frozen Custard & Steakburgers
Freddy's was established in 2002 by brothers Bill and Randy Simon and their good friend, Scott Redler. They named the restaurant after the brothers' father and created a menu that recreates the American meals that he used to make for his family. In the casual dining room, guests can enjoy friendly service and a fun time with friends. Try the milkshake that's made with chocolate or vanilla custard and blended with milk until smooth.
Braum's
Bill and Mary Braum founded Braum's as they wanted to serve giant hamburgers and delicious ice cream treats. Their ten thousand-acre farm is located in Tuttle, Oklahoma, and it's one of the largest dairy operations on the globe. They are also the only major ice cream maker in the United States to milk their own cows, and the dairy herd enjoys a vegetarian diet that includes alfalfa hay and cottonseed. The milkshakes are one of the most popular menu items, and they're made the old-fashioned way with hand-dipped ice cream. There are more than thirty flavors to choose from including black walnut, Bordeaux cherry-amaretto, and butter brickle.
Andy's Frozen Custard
Andy's has welcomed guests since 1986. It was established by John and Carol Kuntz, and they provide a frozen custard experience that you can't find anywhere else. Today, the company is the largest dessert-only franchise worldwide with locations in ten states, and it offers friendly service and a casual atmosphere. Try the shakes that are made with vanilla frozen custard blended with your favorite toppings.
If you would like to call The Academy at Frisco home, please contact us to schedule a tour. In addition to these great milkshake destinations, we are also near fun cultural attractions and top shopping destinations.