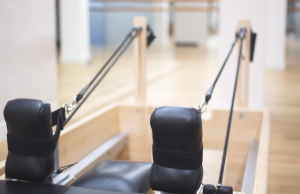 ---
Are you looking to start a new a new fitness routine?
Then consider taking Pilates classes.
They can help increase flexibility, improve core stability, and reduce stress.
Nearby Pilates studios include:
StraightUp Pilates
StraightUp Pilates is a unique fitness studio that emphasizes individual instruction. Owner Jeri Ann Alexander has completed all five hundred hours of the Balance Body program, and she began Pilates after changing careers from classical music to fitness. She welcomes all athletic abilities and offers Pilates mat classes four days a week.
Pilates Plus
Pilates Plus is a laid-back studio that features state-of-the-art equipment. The certified trainers have completed thousands of training and education hours in both Pilates equipment and mat work, and they strive to help students of all physical conditions achieve a balance of strength and flexibility. Classes are offered Monday through Thursday, and private sessions are available.
ZenStudio
At ZenStudio, the instructors believe that exercise should be fun. All of the classes are designed to let students feel the beat of the music in a dimly lit environment, and everyone is encouraged to work at their own pace. The studio has gained recognition from publications such as the Arkansas Democrat-Gazette, and the sixty-minute Studio Pilates class helps improve strength, flexibility, posture, and body awareness.
Fayetteville Pilates & Bar
Fayetteville Pilates & Bar is the premier studio of its type in Northwest Arkansas, and it's known for providing a new way to experience group fitness. The highly trained instructors enjoy helping students meet their goals, and they offer more than forty fitness classes every week. Choices include beginner and intermediate/advanced.
If you would like to call The Academy at Frisco home, please contact us to arrange a tour. Along with these Pilates studios, we are also near fun cultural attractions and top places to shop and dine.