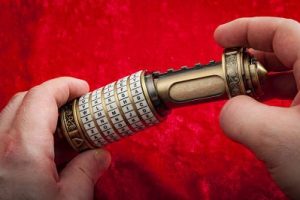 ---
Are you a wiz at solving puzzles and riddles? Do you thrive when working against the clock? Are your cooperation and collaboration skills top notch? Finally, are you proficient at rifling through others' possessions and breaking into locked items? If you answered yes to any of these questions, then your expertise is needed to help complete a mission. The mission? Escape from a room in 60 minutes or less.
Escape rooms are America's latest craze in entertainment. From diffusing a bomb to solving a murder, you and your friends, family, coworkers, or even a few new acquaintances work together to find your way out of a themed room within an hour. Fayetteville residents are fortunate enough to have two different escape room companies in town. With a total of 8 escape rooms between the two companies that change several times throughout the year, there will never be a shortage of missions for you.
NWA Escape Room
In Georgetown Square on N. Shiloh Road, NWA Escape Room invites participants from beginner to advanced levels to four escape rooms. Use your powers to help superheroes, become an honorary member of the Untouchables, help nab the mob boss, Al Capone, discover ancient Mayan artifacts as a Spanish explorer, or solve the murder of a wealthy old gentleman at his secluded mansion. NWA Escape Room is open Monday through Saturday.
Ozark Escape Room
Located off of West Spring Street in the Metro District Building, Ozark Escape Room currently offers two beginner to moderate level escape rooms and two advanced level escape rooms for your entertainment. Bust an arms dealer, discover a wizard's secret antidote, team up with monsters in a haunted house, or escape from an infamous serial killer. Ozark Escape Room is open Wednesday through Sunday and takes reservations as well as walk-in customers.
There are a few things to keep in mind before or when you book your escape room adventure:
You will need to arrive 15 minutes before your scheduled time for a briefing of your mission and to lock up your personal belongings.
Know the cancellation or late arrival policies. Some companies require payment upon booking and do not offer reimbursement.
You are not actually "locked" into your escape room. If you begin to feel uncomfortable or need to exit the room for an emergency, staff will come to your aid.
Do you think you have the skill to escape? Book your adventure to test your skills!
For more information on things to do and see in Fayetteville, contact us at the Academy at Frisco.