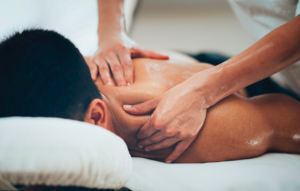 ---
LaVida Massage
At LaVida, the therapists believe that massage and aesthetic treatments are essential to living a healthy lifestyle. The four thousand square foot facility offers a warm and welcoming atmosphere that's complete with individual treatment rooms as well as two couple's rooms, and the prices are reasonable so everyone can enjoy a relaxing experience. Services include signature facials, deep tissue massages, and Swedish massages.
Massage Envy
Massage Envy opened in 2002 with a mission to help people look and feel their best. The staff strives to earn and keep the trust of those they serve by delivering a service that is both exceptional and memorable. Combined, they have provided more than one hundred million treatments. Guests enjoy the tranquil rooms that feature soothing colors and dim lighting, and services include sixty minute massages, acne back facials, and healthy skin facials.
Healing ZEnergy Massage and Bodywork
Healing ZEnergy is located inside a quaint building, and it is where the therapists focus on creating customized treatments to meet their clients' needs. The spa was established in 2014 by a husband a wife duo, and appointments are available five days a week. Massages include thirty-minute focus, couples, and chair.
Spa810
Spa810 is known for delivering results that exceed expectations. Its mission is to create an environment where health, beauty, and wellness come together with innovation, and introductory offers are available to first-time clients. Services include microdermabrasion, signature beauty facials, and signature massages.
If you would like to call The Academy at Frisco home, please contact us to schedule a showing. In addition to these spas, we are also near fun cultural attractions, delicious restaurants, and top dining destinations.