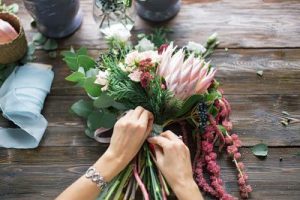 ---
Fayetteville is home to an awesome shop that oozes flowers. Pigmint Floral Studio was born in a vintage Airstream at the Yacht Club, Fayetteville's mobile business venue. It was there that they first placed their "Fresh Flowers" sign on the sidewalk and also where they established a loyal clientele. Now at their present location at 100 E. Joyce Blvd., Pigmint offers fun and flowers in a friendly and colorful atmosphere.
Products
Custom flower arrangements for any occasion are the shop's specialty and customer reviews on Yelp confirm they are both creative and unique. Pigmint strives to use flowers produced by local growers as much as possible ensuring long-lasting freshness. Lovers of green plants won't be disappointed either. The shop carries a variety of live plants in assorted planters and pots.
Classes
Pigmint Floral Studio wants to make sure budding florists can learn the craft. They offer classes throughout the year in several disciplines. Most popular are the floral arranging classes where succulent displays and wreath-making skills are also taught. Private lessons are available too. All necessary materials and flowers are included in the cost. Holidays present students with the opportunity to create one-of-a-kind special projects.
Garden Living
Pigmint's success prompted its owner, Chelsea Hermez, to explore new options. She ended up opening a boutique garden shop a few doors down from the floral studio. With an eclectic plant selection, quirky oversized pottery, and quality garden tools, Fayetteville gardeners never had it so good.
To learn more about living in the vibrant community of Fayetteville, contact us today!