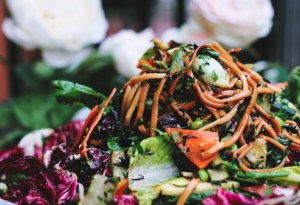 ---
Did you know that May is National Salad Month? It's not too often that we crave a fresh bowl of greens, but every once in a while crunchy lettuce, creamy dressing, and flavorful toppings really hit the spot.
If you're in the mood for a delicious and nutritious bowl of veggies, here are our top destinations in Fayetteville.
Mockingbird Kitchen
Mockingbird Kitchen is a locally owned restaurant where the dishes are made using fresh ingredients provided by farmers from across the Ozark region. Chef Chrissy Sanderson uses her family's recipes and designs the menu around the season. The restaurant offers friendly service and a modern cafe-style setting, and salads include Cobb and Greek.
Pickleman's Gourmet Cafe
After Doug Stritzel worked in the restaurant industry for sixteen years, he decided it was time to realize his dream of establishing a distinct new dining concept. That's how Pickleman's was born, and Doug focuses on creating unique flavor profiles using high-quality ingredients. Today, there are several locations throughout the Midwest, and the menu includes salads such as Walnut Cran, Asiago Caesar, and Italian Chop.
Zoes Kitchen
Zoes Kitchen has passionately shared the Mediterranean diet and lifestyle for more than twenty years. The chefs are constantly creating new recipes, while the wait staff enjoys getting to know those they serve. The restaurant offers a casual atmosphere allowing guests to relax with family and friends, and salads include quinoa, Greek, and Live Med.
McAlister's Deli
It was in 1989 when McAlister's Deli opened in a small Mississippi town. A movie production had turned an old service station into a 1950s diner, and after the filming wrapped, the building sat empty until a dentist bought it with the idea of establishing a deli. It wasn't long before it had many loyal customers, and locations are now found in several states. There are several salads to choose from including Caesar, grilled chicken, and Southwest Cobb.
If you would like to live near these restaurants and more, please contact us to arrange a tour of The Academy at Frisco. We'd love to show you firsthand all our community has to offer.