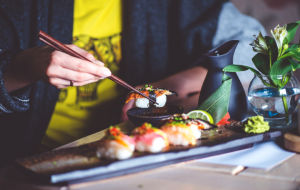 ---
Fayetteville's array of diverse gourmet is just minutes away from the Academy at Frisco. Whether you're craving Italian, Japanese, or even the familiar tastes of American cuisine, here are a few of the best local restaurants that are definitely worth a visit!
With its fine dining atmosphere, Bordino's lunch, dinner, and brunch options are the definition of great Italian cuisine. They offer vast choices of pasta during their dinner hours such as seafood linguine, ricotta-chèvre gnocchi, and beef rigatoni to name a few. Bordino's is located on West Dickson Street and includes valet parking, catering, venue space, and event planning.
Just a 5-minute walk from the Academy at Frisco, Wasabi showcases Fayetteville's delicious Asian cuisine. If you're a lover of Japanese food, this is definitely the restaurant for you. It has an incredible variety of sushi rolls, noodles, bento boxes, and so much more. The restaurant is locally owned and has been operating since 2006. Wasabi has a great, funky atmosphere and even includes live music on its patio.
Located on West Spring Street, Rolando's restaurant has an incredible diversity of Latin foods. Its menu includes many Cuban dishes such as el plato Cubano, pollo bohemio, tamales, and more. It is one of three Rolando's establishments and includes a corner for live entertainment. It's a very nice and cozy place to eat before a night out on the town.
Powerhouse Seafood & Grill offers just a little bit of everything, making it a great place for even the pickiest of eaters to enjoy. Its menu includes dishes such as charbroiled oysters, Angus filet mignon, and catfish. It's less than a 10-minute walk from the Academy at Frisco!
These are just a few of the many great restaurants in our area. For more information about our community, contact us today!