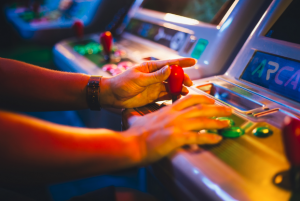 ---
We all love a bit of nostalgia every now and then. From the days of our youth to the allure of historic times, it's always fun stepping back into past decades. Luckily, Fayetteville is home to various locations that have preserved old-school charm.
Here are some favorites:
Gamers unite at Arkadia Retrocade! Guests can play old school games that were classics throughout previous decades for only $5 for all day play. This is the perfect spot for gamers or anyone who is looking to have some nostalgic fun. Guests can hop from one game to another and enjoy the flashbacks of arcade gaming from their childhood while also making new memories with friends and family.
The 90s are back at Starlight Skatium. You can be a spectator or a participant at Starlight Skatium by participating in open roller skating or watching one of the roller derby events held there. The Skatium makes for a great date or a fun friends night out on the weekends as you all glide on the floor listening to the best throwbacks.
Remember to hit the ATM before driving over to 112 Drive-In Theater where you'll travel back to the 1960s where debit cards hadn't been invented yet. This cash-only theater is open on the weekends with current movies playing in the evenings for your viewing pleasure. Pull up with your favorite snacks and enjoy the show from the comfort of your vehicle.
The next time you're feeling nostalgic, check out these three places. If you're looking to live somewhere near all the great locations in Fayetteville including the University of Arkansas, contact us today!