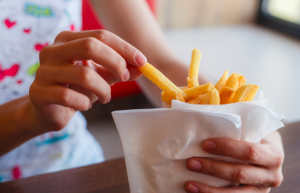 ---
Did you know that July 13th is National French Fry Day?
If you would like to celebrate, head to one of the following restaurants:
Hammontree's Grilled Cheese
Hammontree's is Fayetteville's original grilled cheese restaurant. Its motto is "It's All About the Cheese," and there are fifteen different sandwiches to choose from. The restaurant has a 4.5-star rating on Yelp as guests appreciate the attentive service and quaint atmosphere complete with exposed brick and fun games. The sandwiches include The Ragin' Cajun, The Honkey, and Ozark Monte Cristo, and they can be enjoyed with sweet potato fries served with avocado ranch dipping sauce.
Catfish Hole
Pat and Janie Gazzola have offered the best service and finest catfish for more than twenty years. They have many loyal customers, several of whom they know by name, and the Catfish Hole has been recognized by several publications. In a casual atmosphere, diners can enjoy catfish steaks, chicken fillets, and fried shrimp, all of which are served with fries.
Southern Food Company
When Todd and Marti met at the University of Arkansas, it was practically love at first bite. Todd enjoyed her cooking, and they have been a couple for more than thirty years. Together they own the Southern Food Company and fuse Mama's home-style meals with spices and healthy alternatives to bring a tasteful experience. The menu includes tuna salad sandwiches, chicken fried steak, and BLT's, and all come with a side of fries.
Mockingbird Kitchen
At the Mockingbird Kitchen, guests enjoy meals made by Chef Chrissy Sanderson. She prepares personal recipes passed down from her mother and grandmother, and all are made using local, seasonal ingredients. The restaurant offers a cozy atmosphere, and the menu includes meatloaf, spicy chicken sandwiches, and pimento cheese bacon burgers with fries on the side.
These are just some of the delicious restaurants near The Academy at Frisco. If you are searching for a place to call home, please contact us to schedule a tour. Our leasing agents would love to show you our community firsthand.