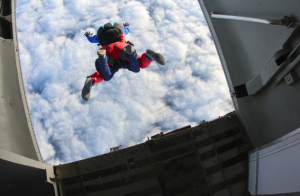 ---
Are you suffering from boredom this summer? Looking for a way to escape your routine? Why not try parachuting out of an airplane?
Skydiving is an awesome activity that is rapidly growing in popularity. All over the world, people are seeking this adventurous experience. Now, you can go skydiving in Fayetteville, Arkansas at Skydive Fayetteville.
The following are a few reasons why you should book your first skydiving session today.
Cross it off your Bucket List
Most of us have a "bucket list". These lists consist of all the things we wish to do in our lives. Perhaps, skydiving is one of those things for you. Now, skydiving is available right here in Fayetteville. It's time to seize the moment and do the things that make life amazing.
Beat the Heat
The heat can be stifling in Fayetteville in the summer. When you parachute out of a plane though, the temperature usually drops by 10 to 20 degrees. This is unsurprising as you are falling from 10,000 feet and going over 100 miles per hour. This makes skydiving a perfect way for you to beat the heat this summer.
Dominate your Social Media
Let's face it: sometimes we like to show off in our social media posts. We like to show our friends and followers all of the cool things we are doing. What is cooler than skydiving? Everyone who views your Snapchat will replay the video. Guaranteed.
See Arkansas Like Never Before
The views from 10,000 feet are breathtaking. When you go skydiving, you are completely free to take in the massive landscape of this beautiful state. You will be filled with the amazing sights of the rolling hills and lakes of northwest Arkansas. You will see Arkansas like never before, and you will never forget it.
Skydiving is an awesome activity and is readily available in Fayetteville, Arkansas. If you are looking for an equally-awesome apartment community nearby, then contact us today!