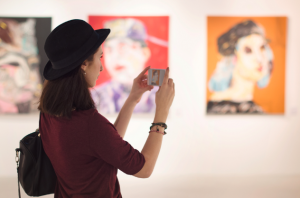 ---
If you're hungry for a thriving art scene then Fayetteville is the place to be. With the presence of both the University of Arkansas and investment in the cultural life of the city, Fayetteville has become a robust center of contemporary artistic activity.
Art Ventures
Located on the Historic Downtown Square, Art Ventures provides gallery space, art education for children, and development programs for talented young artists through mentorship and assistance. It has been a valued boon to Fayetteville's art world. With regular new exhibitions at the AV Gallery showcasing promising new and more established talents, art lessons, artist talks, and more, there is always a new rich new vein of culture to discover.
David McCune International Art Gallery
Beyond Art Ventures, Fayetteville is home to several other impressive art venues. The David McCune International Art Gallery hosts exhibitions of historically celebrated artists like Rodin and Chagall, contemporary regional and international artists, and student works.
Alter Egos Gallery & Studio
On Gillespie Street, the Alter Egos Gallery & Studio is creating a space for up-and-coming local artists as well as a communal hub for those interested in dipping their feet in some artistic expression. With events like Paint and Movie Nights for both teens and adults and regular new exhibitions of exciting new works as well as themed exhibits, Alter Egos has become a vital part of Fayetteville's flourishing art scene.
At the Walton Arts Center, you'll find the Joy Pratt Markham Gallery, presenting exhibitions by both new and established artists. The gallery promises to bring you to new understandings of community, identity, and the natural world through media in the visual arts. Walk your way through the Joy Pratt Markham Gallery at the center before catching a show at Baum Walker Hall.
For more information about luxury living in this thriving cultural community, contact our staff at The Academy at Frisco today.