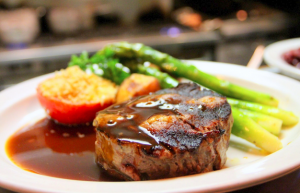 ---
Comfort food at it's finest, there's nothing quite like a steakhouse meal. From buttery rolls to decadent sides of mac and cheese and mashed potatoes, to the meaty main course, steakhouses are a great way to unwind and relax with family and friends, or as a date night destination. Check out these three fabulous steakhouses in Fayetteville, all located close to our student-friendly apartment community!
Herman's Ribhouse
Serving customers since 1964, Herman's Ribhouse has become a Fayetteville institution! Everything they make is freshly prepared in their house kitchen, and all their steaks are hand-cut, never frozen. Herman's has an extensive menu to suit every taste, everything from hearty salads and sandwiches to their famous tenderloin filet and rack of ribs. They have an outdoor patio deck that features a regular rotation of live music acts!
Powerhouse Seafood and Grill
Voted "Best Seafood in Northwest Arkansas" for twenty years straight, Powerhouse Seafood and Grill is a remarkable dining experience. With classic steakhouse favorites like surf and turf, three-cheese spinach dip, crab legs, filet mignon, and alfredo pasta on the menu, Powerhouse provides delicious food and a cool, relaxing ambiance. Check out their variety of specials, including oyster Happy Hour on Thursdays and "Pounder" Wednesdays, where you can enjoy a full pound of Angus NY strip steak or ribeye with a pound-sized baked potato for only $18.
MarketPlace Grill
MarketPlace Grill was founded with the desire to serve the freshest steaks and produce in an environment that is perfect for creating memories. They serve dinner and lunch daily and have a special gluten-free menu for those customers that need it. The comfortable, delightfully-decorated dining area is a great setting for everything from a family meal to a romantic dinner date. Check out MarketPlace Grill's special dinner for two option, which comes with specially curated appetizers, entrees, and desserts!
Contact us today to schedule your tour of The Academy at Frisco apartment community, and you can soon enjoy all of these fantastic local dining spots and so much more!