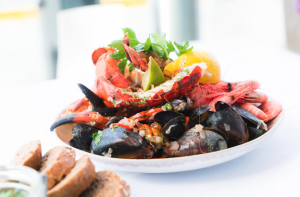 ---
If you have a craving for some fresh seafood, the city of Fayetteville offers endless options! Our busy student community at The Academy at Frisco is located conveniently close to local seafood restaurants that provide the perfect atmosphere for everything from a casual date night to a quick lunch with friends. Discover Fayetteville's top seafood restaurants today!
Cafe Rue Orleans
Experience the vibe and charm of New Orleans close to home at Cafe Rue Orleans! They specialize in authentic Cajun-style food served in a chic, comfortable environment. Cafe Rue Orleans serves brunch, lunch, and dinner so you can enjoy everything from Creole shrimp and grits to shrimp Pontchartrain. The best part - all entrees are student budget-friendly so you can enjoy an upscale meal without the upscale price.
Mermaids
Locally-owned and operated, Mermaids specializes in delicious seafood, always prepared to order! They have a full menu of brunch, lunch and dinner favorites, with gluten-free options available as well. Make sure to try their steak and shrimp summer special, only $24.95 for steak, shrimp, mashed potatoes and green beans, plus salad and bread. Mermaids has special event rooms and catering packages for all your special occasions, such as graduation, family reunions, or birthday parties.
Meez and Kini
Mediterranean-style street food is the order of the day at Meez and Kini, which provides a fun, social environment as well as fantastic food. They are vegetarian and vegan-friendly and offer a wide variety of tasty entrees to please every palate. Make sure to try their grilled salmon platter, citrus-marinated salmon served over rice pilaf with your choice of fresh vegetables or salad.
Treat yourself to a delightful seafood meal at any of these tasty Fayetteville restaurants, and contact us today to learn more about our comfortable apartment community and to schedule your tour!