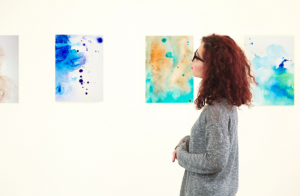 ---
Indulge your artistic side at one of Fayetteville's many local shops dedicated to the arts. Heartwood Gallery is a renowned artist cooperative that provides a space for local artists to display their works and for members of the public to browse, buy, and attend a number of special events throughout the year. Discover what makes the Heartwood Gallery so special!
Buy Art and Gifts
The Heartwood Gallery is most known as a charming, beautifully decorated shop where you can discover a wide selection of unique art and gift items. Dozens of local artisans have their wares on display at Heartwood Gallery, including handmade jewelry, paintings, pottery, stained glass, woodworking, textile pieces, sculpture, and much more. Find the new centerpiece for your living room or a one-of-a-kind gift at Heartwood Gallery while you enjoy one of the most beautiful spaces in Fayetteville.
Special Events and More
Every season, Heartwood Gallery hosts a variety of special events like socials, speaking engagements, lectures, and much more. It is proud to be a place that celebrates art in all its forms, and whether you are new to the art world or are interested in having your art on display at Heartwood Gallery, you will find what you are looking for. Plus, Heartwood Gallery is staffed by the very artists whose work is on display, so you can speak to the creators directly about works that you are interested in, and learn what inspires their creativity. Discover more about Heartwood Gallery's special events and what they have to offer on their website, updated regularly.
There is always something fun and exciting to explore in Fayetteville! The residents at The Academy at Frisco apartments can enjoy quaint local spots like The Heartwood Gallery and so much more. Contact us today to learn more about our convenient, student-friendly apartment community and to schedule your tour.