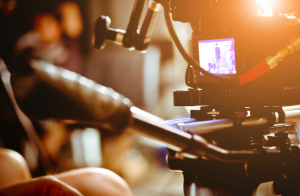 ---
Coming up this September is Fayetteville's 10th annual Film Festival. From September 20th to 22nd you can come out to support independent, local, and national filmmakers right in downtown Fayetteville. Passes are required and can be purchased online. Here is a look at what you can expect at this year's Film Fest.
Day 1: Thursday, September 20th
The festival will begin at 1:30 pm on Thursday and will start with a focus on young filmmakers. There will be 13 film showings for this category including works by local schools. The Emerging Filmmaker category is next at 3:30 pm and will be followed by a question and answer session with the filmmakers. The Virtual Reality film block will begin at 5 pm and features three separate short VR films. You can stop by this booth throughout the festival.
The Red Carpet Opening Night Street Party begins at Center Avenue at 5:30 pm and will feature music, food, drinks, and art installations. The feature film All Square begins at 7 pm at the Global Campus Theatre and will be followed by short films in horror and sci-fiction.
Day 2: Friday, September 21st
The second day of the festival will begin with the feature film *Wild Nights with Emily *at 2 pm. The documentary *Fail State *will begin at 3:30 pm followed by the documentary block category beginning at 5 pm featuring one full-length and one short documentary.
The animation block will begin at 5:30 pm and will be followed by short films dedicated to crime and punishment. Experimental films begin at 6:30 pm and the last feature film *Antiquities *will start at 8 pm in the Global Campus Theatre.
Day 3: Saturday, September 22nd
The last day begins with another section of documentaries at 10 am and 1 pm. The feature film *Thunder Road *starts at 1:30 pm followed by yet another documentary block at 3 pm. You may also choose to relax during the narrative shorts dedicated to comedy at 3:30 pm before the drama block at 5:30 pm.
End the night with another feature film *Blood Fest *at 7:30 pm and stay for the final award ceremony at 9:30 pm. Awards will be given based both on jury and audience ratings so be sure to vote for your favorite films.
Contact us at the Academy at Frisco to learn more about living in Fayetteville and to schedule a tour of our community. Follow our blog for more information on upcoming events, festivals, fairs, and more in the area.