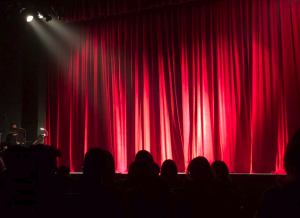 ---
If theater is your passion, then you'll find plenty to do in Fayetteville. Whether you like to help out behind the scenes or simply sit back and watch, these theater programs will keep you entertained.
T2, as it's known locally, produces nationally acclaimed shows that reach almost 50,000 patrons every year. It's the region's only year-round professional theater, with 230 shows annually, so there's always something going on here. For those who are interested in learning the craft, the organization offers month-long acting classes every semester as well as bi-weekly meetings for playwrights. TheatreSquared even offers their audience the chance to interact with the professionally trained artists who put on the shows.
The first building for the Walton Arts Center opened in 1986 when the community recognized the need for a community arts facility. Now it's Arkansas's largest and most prominent arts venue, providing a stage for performers and entertainers from around the world. Like T2, the organization offers classes taught by professional artists. They also host several festivals throughout the year and provide venue rentals for other events.
An interesting aspect of the Walton Arts Center is their willingness to adapt to the needs of viewers with autism, sensory input disorders, and another cognitive and developmental disabilities. While everyone is welcome to attend any show at any time some performances feature quieter sound and dimmed lights to avoid sensory overload. Visitors are also allowed to speak, use their mobile phones, and come and go as they please.
Arts Live Theatre is a nonprofit theater company for local youth. Every production is performed by the kids with the guidance of their instructors. Besides the typical children's stories like Babe and Beauty and the Beast, the organization also offers shows adapted from more adult-oriented sources, such as The War of the Worlds and even works by William Shakespeare. Adults and college students can volunteer their time with set building, ticket sales, hair and makeup, costumes, tech crew, and many other areas.
No matter your interests, there's something in Fayetteville for everyone! If you'd like to join our community and learn more about the town, don't hesitate to contact us.