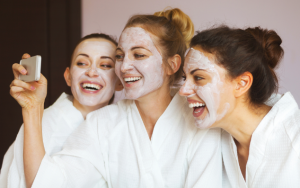 ---
Discover how wonderful your skin can look and feel when you visit BellaDerm day spa! As a top day spa in Fayetteville that has been earning hundreds of satisfied customers for years, BellaDerm features an extensive menu of skincare services, all guaranteed to relax your body and improve the texture and appearance of your skin. Learn all about this Fayetteville favorite!
Facial Treatments
BellaDerm offers a wide variety of different types of facials, customized to suit your skin's unique needs. From their advanced signature facial, which offers a full 75 minutes of relaxation and includes steam, exfoliation, a facial mask, massage, extractions, peel and/or Dermasound to their mini Bella facial, a quick 30-minute pick me up for your skin, BellaDerm has something for every need. The estheticians will help educate you about different skincare brands, and how best to take care of your skin during your treatment.
Cosmetic Services & Waxing
In addition to their signature facial services, BellaDerm features waxing services, eyelash tinting, and brow tinting. Plus, their wide selection of facial peels will refresh and invigorate your skin, whether you choose a luxurious chocolate peel or the acne-targeting salicylic acid peel. BellaDerm's knowledgeable and experienced staff can help you choose the perfect treatment for your skin, whether you get regular facials or have never before booked a skincare service. Pick up a new cleanser, serum, or moisturizer before you leave, and discover how it feels to achieve your perfect skin! Browse their full menu of services on their website and plan your visit to BellaDerm day spa, the top day spa in Fayetteville.
Residents of The Academy at Frisco apartments can enjoy easy access to top local businesses like BellaDerm day spa and much more. Contact us today to learn more about our comfortable apartment community and to schedule your tour!