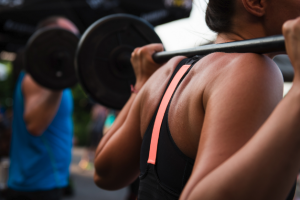 ---
These three gyms, located just minutes from our apartments near University of Arkansas Fayetteville provide community and motivation that will help you reach your fitness goals.
Clubhaus Fitness
Clubhaus Fitness offers more than a gym. They offer a community unlike any other. Boasting "fun, friendships, energy, and fitness," Clubhaus helps members push through and past their fitness goals. With the offer of over 70 fitness classes each week, there's a class to fit even the busiest of schedules. Still not sure? Clubhaus offers a free 7 day pass to come try the gym and find out for yourself why it stands out.
CrossFit Fayetteville
CrossFit can often be the last thing on someone's mind when they're looking to start a fitness program, but at CrossFit Fayetteville, they're gladly accepting new members whether they've never picked up a weight or are seasoned veterans. A sincere focus on form and functionality means that you're never going to go above and beyond your limits, while the muscle confusion created by each workout still allows you to grow and never get bored. If you've never tried CrossFit, there's no better place to start than at CrossFit Fayetteville.
Fitness One
With two locations in Arkansas and weekday open hours all the way until 11pm, there's no great reason not to join Fitness One. The unmatched flexibility extends into their fitness classes, as many different types of classes are taught throughout the day. With an open gym format in addition to these classes, you're able to create and follow through with a workout plan of your own, assisted by trainers when necessary.
Looking for a gym a bit closer to home? The Academy at Frisco offers a 24/7 fitness center equipped with state-of-the-art machines and vibrant, stylish designs. Contact us today to schedule a tour!