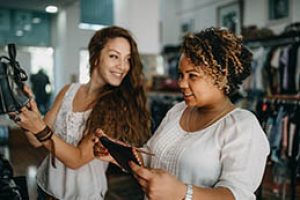 ---
If you're unable to head home this Thanksgiving season but still crave the flavors of the holiday, why not host your very own Thanksgiving meal? While many mainstream supermarkets offer all the traditional "fixins'" for a traditional Thanksgiving meal, every city has several small specialty shops that offer shoppers an entirely different Thanksgiving Day shopping and dining experience. The city of Fayetteville is no exception to that.
The following are five locally-owned, specialty shops that can help you take your Thanksgiving feast to the next level.
Grab a Turkey At Richard's Country Meat Market
When you are getting ready to prepare your special Turkey Day feast, stop by Richard's Country Meat Market and have him cut your family a fresh turkey to cook up for your holiday table! Moreover, Richard and his business partner Chris are both butchers with extensive experience in the industry, so not only can they sell you a great turkey, but they can also recommend and sell you spices and seasonings to complete your main meat dish! Best of all, the prices are similar to what you would pay at your average supermarket!
Stop By The Cask & Grove to Get Seasonings For Your Thanksgiving Feast
The Cask & Grove offer small bottles of oils for prices as low as $4, making it a great, affordable place to shop to get the delicious oils and spices you need to cook your Thanksgiving dinner. The Task & Grove also sells other items such as organic salts, teas, coffees, and Taza chocolates to name a few other items that can be purchased. Stop by The Cask & Grove to pick up some oils and spices today so you can cook up a delicious Thanksgiving dinner for everyone who will come to your table for a special holiday feast.
Grab Dessert at Alchemy Macarons
Finally, to finish off your meal, stop by Alchemy Macarons to pick up some delicious, mouth-watering treats to have with your pumpkin pie at your Thanksgiving feast. Locals love this macaron shop as they deliver fresh-made cookies that come in a variety of flavors including chocolate, salted caramel, pistachio, passion fruit, coconut, strawberry, lemon, lavender, and many others. These macarons are available in boxes of 6 or 12 or you can make your own custom order to get just what you need!
Serve these up alongside your Turkey Day pumpkin pie and everyone will devour them in minutes!
For more information on local businesses where you can find more great additions to add to your Thanksgiving feast please feel free to contact us.