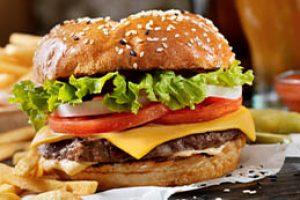 ---
One of Fayetteville's top restaurants is Doe's Eat Place, a student-friendly steakhouse that offers a menu full of delicious entrees, a warm and welcoming atmosphere, and rich local history. Located close to our apartments in Fayetteville, Doe's Eat Place provides the perfect spot for those seeking a hearty lunch or a delicious dinner.
HISTORY & TRADITION
When you visit Doe's Eat Place, you will enjoy the rich ambiance of a restaurant that has been family owned and operated for since 1941. Charming, rustic decor adorns the inside of the restaurant, including saddles on some of the chairs, and plenty of fishing memorabilia on the walls. Doe's Eat Place provides the atmosphere of an old-fashioned diner, with the friendliest service in Fayetteville. Whether you want to unwind after a study session with a juicy steak and Southern drop biscuits or hang out over dinner with your closest family and friends, Doe's Eat Place is waiting for you!
DELICIOUS FOOD
While Doe's offers up a wide variety of delectable options to choose from, there are a few signature treats that they have become famous for. Try their all-beef tamales, with crispy corn tortilla shells, made with a special family recipe since 1941. Their signature ribeye steak is thick and juicy, sprinkled with the perfect seasoning blend to really enhance the flavor of the meat. Also, make sure to indulge in Doe's classic fried shrimp, filet mignon, or fresh house salad, made with a light dressing of olive oil, lemon juice, and fresh pressed garlic. Check out the full menu and learn more about the history of Doe's Eat Place on their website!
When you become a resident of The Academy at Frisco, you can enjoy easy access to top Fayetteville restaurants like Doe's Eat Place and much more. Contact us today to learn more about our apartment community and to schedule your tour!
Do you prefer burritos over steak? How about sizzling cuts inside of a warm tortilla? If so, head to one of these local eateries in Fayetteville that specialize in tasty burritos.