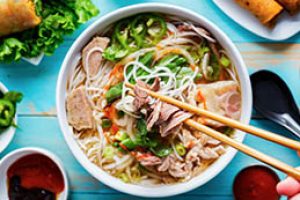 ---
Back on campus, but still craving the comfort food of home? Or just want to try something new this semester? Then check out pho, a delicious Vietnamese dish that fuses noodles, broth, and protein, creating seemingly endless combinations. Vietnamese food is often considered to be some of the healthiest cuisine in the East, using simple, natural ingredients to create dishes that balance the body's natural rhythms. Plus, a single bowl of pho has your daily dose of carbs and proteins, along with heaping portions of fiber, vitamins, and antioxidants.
For some of the best pho near our apartments in Fayetteville, check out one of these top-ranked eateries, located just minutes from our luxury apartments.
Known for its delicious appetizers and aromatic pho broth, Typhoon Vietnamese Cuisine is only a few minutes drive from the Academy at Frisco. Their authentic tasty and large portions, and friendly service are just a few highlights of their large and reasonably priced menu. Plus, they offer a Build-Your-Own-Pho option, so you can try something new every time you visit.
In addition to delicious and fresh-tasting pho, Pho Thanh II offers crisp and crunchy spring rolls that are a hit with locals. And if you're coming with friends, you can order hot-pot style, with enough soup for everyone at the table. Looking for a pick-me-up after? Check out their wide variety of bubble teas, a sweet Vietnamese treat that can be ordered to go.
For heaping servings of noodles and pho served straight from the pot, Thai Taste is the place to be. In addition to pho, they're known for their delicious pad thai and rice dishes. Or, if you're looking for a more low-calorie option, check out their large salad menu, featuring traditional Vietnamese dishes including Tum Tard Hiso (papaya salad) and Nam Kao (rice salad).
For more info on the best cuisine in Fayetteville, or to schedule a tour of our spacious apartments, contact us today.
Is one of your new year's resolutions to be healthier? If so, pho is a great option! For other healthy bites in the area, click here to find our list of top health-conscious restaurants in Fayetteville.