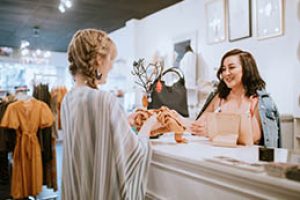 ---
Discover Stylish Finds at Savoir-Faire Boutique
Students who reside at The Academy at Frisco apartment community enjoy convenient access to the very best that Fayetteville has to offer, including some of the best shopping destinations in the state. Savoir-Faire boutique has been a local hotspot since opening its doors in 2011. This boutique offers a beautiful environment, high-quality, chic clothing, and friendly service just minutes from our furnished apartments in Fayetteville, AR.
CHARM & SERVICE
One of the hallmarks of Savoir-Faire boutique is their modern, attractive decor. In shades of gold, black, and white, the wall art and decor provides the perfect backdrop for an afternoon of shopping. They strive to always offer a wide selection of clothing styles to appeal to anyone – so whether you need the perfect outfit for graduation or a cute top for dinner with friends, head to Savoir-Faire. The friendly staff is always willing to help you narrow down the selection and walk away completely satisfied. You are guaranteed to look and feel fabulous after a trip to Savoir-Faire!
SEASONAL STYLES
Savoir-Faire carries an incredible selection of all the latest styles, perfect for the fall season! As the leaves change color and the temperatures drop, outfit yourself in a black and white dotted sweater, olive jumpsuit, super-soft chenille sweater, or spicy red sweatshirt. If you can't make it into the store to shop, Savoir-Faire boutique offers a number of adorable clothes on their website. Accessorize your look with a belt, cute handbag, or fun jewelry! Shop their game day picks to make sure your football look is on point, and enjoy easy and fast shipping – no need to ever leave your apartment in order to look amazing!
Become a resident of The Academy at Frisco apartments today, and you can discover great shopping, top-rated restaurants, and scenic Arkansas views. Contact us today to learn more about our community and to schedule your tour!
Looking for even more styles? How about for a quarter of the price? These thrift stores in Fayetteville offer unique finds for cheap!