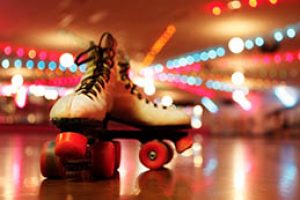 ---
It's Friday night and you're feeling a little retro. What do you do? Throw on some spandex, grab a couple friends, and head over to the Starlight Skatium!
Located close to our apartments near University of Arkansas, it's a must-visit!
Roller Skating
This downtown Fayetteville gem features an old school roller rink complete with disco balls and funky 80s music. Both inline and 4-wheel skates are available to rent. All skill levels are sure to enjoy the glow-in-the-dark decorations and zany games like roller limbo, dice, and the cha-cha slide! They'll even host a private party for you and up to 550 of your closest friends, which includes pizza and a DJ spinning your favorite tunes. There's no need to turn in your skates early, either; the Skatium is open until 11:00pm on Thursdays, Fridays, and Saturdays.
Food & Fun
If you're tired from skating your heart out, head over to the snack bar. There's nothing like a soft pretzel or chili cheese fries to get you back up to speed! Aspiring pinball wizards should check out the arcade with both classic and electronic games.
Roller Derby
When local owners Tiffany and William Caston opened their rink in 2009, they dreamed of bringing the joy of skating to their community as well as providing a venue for the Northwestern Arkansas Roller Derby, of which Tiffany is a member. For those of you who haven't seen Whip It, roller derby is a pulse-pounding sport that is better witnessed than described. Don't let their nicknames—which include Owwie Kaplowie and Slay Gatsby—fool you; these ladies are serious athletes. Attend a game and you'll find yourself hollering for the home team in no time! The Skatium hosts all NWA Roller Derby home games, including one coming up on May 4th. Purchase your tickets here!
Looking for other fun Fayetteville spots to check out with your friends? Contact us to learn about fabulous local events, restaurants, and more! Start living your best life with The Academy at Frisco community.