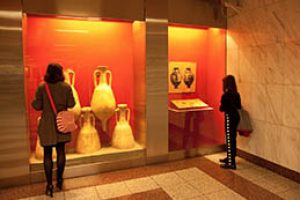 ---
Nestled in the Arkansas hills, off AR-16 in Fayetteville, and just a short drive from our furnished apartments in Fayetteville, AR, you'll find an unparalleled and irreplaceable art park full of sculptures, fountains, murals, labyrinths and so much more. Artists Leo and Rita Ward founded Terra Studios in 1975 as a glass and pottery studio that would be open to the public. There Leo and Rita used their amazing talent to teach aspiring artists from all around, and it wasn't long before their signature piece The Blue Bird Of Happiness was in hot demand and Leo and Rita knew that their little studio was going to leave a lasting mark.
The Terra Studios of today sits on six acres of beautiful Arkansas wilderness and is still home to many artists who continue to add their works to the unique landscape, though the Ward's retired in 2007.
Plan to be there a while as there is plenty to see and do for visitors of all ages. And did we mention that the Art Park is Free?!
Games and Wonderwall
Play giant Chess or Checkers, or leave your mark in chalk on the Wonderwall. There's also a scavenger hunt on the keepsake map to ensure there's never a dull moment.
Wizard's Cave
The Wizard's Cave is quite the sight. Crystals and critters, glass stalactites and a magical atmosphere all lead to the Wizard's Throne, where the sitter can come up with new spells or study the stars for a while.
Labyrinth
It's no secret that Labyrinths are usually a place of calm and tranquility and Terra Studios' Labyrinth is no exception. Scientists recently validated the positive effects a Labyrinth has on the brain, and many medical facilities across the country are beginning to implement them into their therapy programs, as the switch between the brain's hemispheres while wandering can ease symptoms of PTSD and help in stroke recovery.
Art Classes
The fun doesn't stop with looking. If you're ready to get your hands dirty, take one of the many classes offered by the resident artists. Click the link to see descriptions, prices, and class length to plan your perfect visit. They offer everything from clay pots and animals to silk scarf dyeing, and wire jewelry wrapping. You can even make your very own hula hoop! They offer all these great keepsake classes to individuals and private groups.
The Dream
Terra Studios' dream is to heal the world with art and awaken the artist in all of us. The non-profit establishment is working hard to form an even more significant relationship with the community to expand art education by teaching heritage and contemporary art to all in their reach and training aspiring artists to help hone their skills, all while making sure the experience stays admission free.  So if you have a free day, visit Terra Studios and help make the dream a reality.    You'll find Terra Studios at 12103 Hazel Valley Road. You'll find us at 413 N West Ave. Contact us now for availability and to learn about our wonderful community!