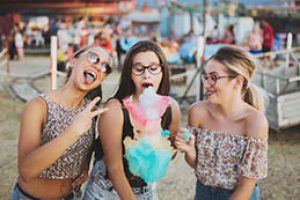 ---
Dazzling lights, excited screams, mouthwatering treats, and super cute animals--that's right, it's fair season once again. Visiting local fairs is an iconic summer pastime. There's nothing quite like strolling around the fairgrounds under the stars. This year, you can visit the largest county fair in the state--and it's only a short drive from your apartment in Fayetteville.
Washington County Fair
This beloved late summer event is Arkansas' largest county fair. Founded over 150 years ago, the Washington County Fair is a delightful experience for guests of all ages. The fair continues to grow each year thanks to the hard work of many community members, from farmers to business leaders to volunteers.
The Washington County Fair takes place from August 20th to the 24th in Prairie Grove. Gates open at 10:00 a.m. each day.
Events
The fair offers visitors a wide variety of events--there's always something for everyone! From the midway featuring over 24 classic rides to the arena boasting numerous livestock shows, you'll need to visit every day to see it all.
Lumberjack Show
Back by popular demand, this unique show is sure to please. Watch as powerful lumberjacks display incredible feats of strength--heavy axes will fly through the air and humongous logs will roll across the arena. The competition heats up with chainsaw carving and hot saw racing, in addition to loads of other cool lumberjack tricks.
The lumberjack show runs at 6:00 p.m. and 8:00 p.m. Tuesday-Thursday, 7:00 p.m. and 9:00 p.m. Friday, and 4:00, 7:00, and 9:00 p.m. on Saturday.
Midway
No fair is complete without the traditional midway! Here you'll find all the excitement your heart desires. Win a prize at a game booth, go for a spin on a classic carnival ride, or grab a tasty treat from one of the numerous food stands.
The midway opens at 5:00 p.m. Tuesday-Friday and noon on Saturday.
Petting Zoo
You don't have to be a kid to enjoy the petting zoo. Stop by and visit the adorable farm animals, they'll take all the love and cuddles they can get!
The petting zoo is open daily from 10:00 a.m. to 9:00 p.m.
Midnight Madness
Spend the whole night on exciting rides in the midway with Midnight Madness. Simply bring a Pepsi can from 10:00 p.m. - 1:30 a.m. on Friday night to get a $20 armband.
These are just a few of the fantastic events happening at this year's Washington County Fair. Check out the full schedule for a complete list of events and times. Please feel free to contact us to learn about other exciting places to visit near your home at The Academy at Frisco.