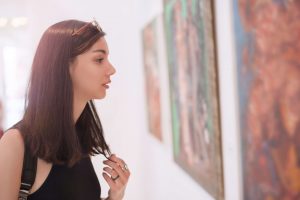 ---
Check Out The Walton Arts Center
Just a four-minute walk from The Academy at Frisco is a cultural destination known as the Walton Arts Center.
It opened in 1992 and has become the state's largest and busiest arts presenter.
The theater's programming is diverse, and its mission is to bring top performing artists and entertainers to Northwest Arkansas.
Upcoming events include: Classic Albums Live: Rumours (February 2)
Classic Albums Live is back by popular demand, and on this evening, the singers will perform songs from the Fleetwood Mac album Rumours. It won a Grammy for "Album of the Year," and tunes include "Don't Stop," "I Don't Want to Know," and "Gold Dust Woman."
An American in Paris (February 6-11)
An American in Paris is a critically acclaimed musical that's about love, hope, and living your dreams. It tells the story of an American soldier, a French woman, and a European city, each hoping for a fresh start after the war.
The Humans (through February 18)
Winner of the 2016 Tony Award for "Best Play," The Humans is touring the country after a record-breaking Broadway run. Called "The Best Play of the Year" by The Washington Post, it tells the story of Mr. Blake who takes his family to his daughter's new apartment for Thanksgiving. When the sun goes down, things start to go bump in the night, and family tensions rise.
Raul Midon (March 1)
Raul Midon is a singer-songwriter who hails from New Mexico. Blind since birth, he is known for having one of the most distinctive voices in music. He has received recognition from several publications including the New York Times and the Huffington Post, and his repertoire includes "All That I Am," "Sound Shadow," and "Fly Like an Eagle."
The Walton Arts Center is just one of the attractions near our apartment community. If you are looking for a place to call home, please contact us to schedule a tour.