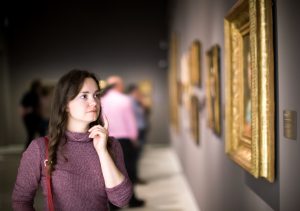 ---
An easy drive from The Academy at Frisco is a world-class museum that's nestled on 120 acres of Ozark forest.
We're talking about the Crystal Bridges Museum of American Art, and its permanent collection spans five centuries ranging from the Colonial era to the present day.
The museum opened in 2005 and is named for a nearby spring and the bridge construction incorporated into the building.
Exhibitions
The museum features temporary exhibitions, and those currently on view include:
Not to Scale (on display through April 9) - Not to Scale showcases a variety of drawings, models, and concept sketches created by Buckminster Fuller. He was an architect known for his revolutionary ideas that focused on improving the quality of life for the human race. The museum states that this exhibit introduces his work and principles, while at the same time celebrating his passion for innovation.
All or Nothing (on display through May 28) - All or Nothing highlights black and white works that focus on elements such as composition and spatial relationships. The pieces date between 1860 and today, and according to the museum, the limited color palette draws attention to the creative processes and meaningful details.
Hiking Trails
After guests explore the exhibits, they can take to the museum's scenic trails that were designed to spark the imagination. They include:
Crystal Springs Trail (1/3 mile) - The Crystal Springs Trail leads hikers to a natural spring which has been an important water source for both humans and animals for more than a century.
Crystal Bridge Trail (1.5 miles) - Hikers along the Crystal Bridge Trail will enjoy a scenic walk through the stunning Compton Gardens and take in beautiful views of the museum's campus from the ridge above.
The Crystal Bridges Museum of American Art is just one of the cultural attractions near our apartments in Fayetteville, Arkansas. If you would like to call our community home, please contact us to schedule a tour.