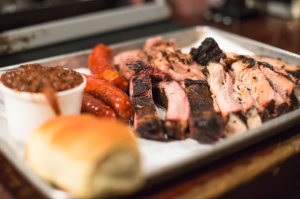 ---
Do you want to enjoy some mouthwatering barbecue?
If so, head to one of the following restaurants where you are sure to enjoy a delicious meal:
Penguin Ed's
Penguin Ed's has welcomed hungry guests for more than twenty years. The pitmasters have won several awards, and part of what makes the restaurant great is its slow, hickory-enhanced method for smoking meats. Originally, the delicious meals were served under a tent between Hwy 265 and Hwy 45, and the bare bones operation had no cash register or telephone. It opened in a brick and mortar location in 1996 and offers a casual atmosphere and friendly service. The menu includes ribs, chopped beef, and barbecue chicken.
Whole Hog Cafe
The Whole Hog Cafe was established by three friends who state that it evolved from a hobby that got out of hand. They have had success on the competition circuit, and the restaurant has been recognized by publications such as the Arkansas Times and Arkansas Democrat-Gazette. The spacious dining area provides a laid-back atmosphere, and the menu includes brisket, pulled pork, and baby back ribs.
Wright's BBQ
Wright's BBQ is a food truck that serves guests on Saturday mornings at the Fayetteville Farmers Market. The owners take people back to the method of open flame on a pit as they believe that it is the only way to achieve the flavor and tenderness of real barbecue. The pecan wood is sourced from downed trees in central Arkansas, and the menu includes bacon burnt ends, beef ribs, and pulled pork. All pair well with the side offerings such as loaded baked potato salad and smoked beans.
If you would like to call The Academy at Frisco home, please contact our friendly representatives to arrange a tour. We would love to show you our community firsthand.