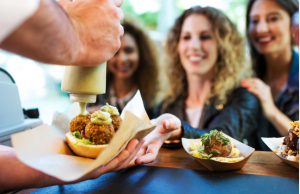 ---
If you're itching to explore Fayetteville's food scene but your student budget is holding you back, try local food trucks to get a taste of what this Arkansas town has to offer. Fayetteville's food trucks are a collective melting pot, showcasing a wide variety of cultural cuisines from all across the globe. The prices are student-friendly, and the food is served in a hurry to fit any schedule.
South in Your Mouth
This truck is a newcomer on the scene, but they're already emerging as a top Fayetteville contender. Their mission is to serve flavors inspired by Grandma's kitchen, but with a touch of Southern sass. Try Southern Poutine, home fries topped with sausage gravy, cheddar, bacon, and a fried egg, or their signature biscuits with your choice of traditional, vegetarian, or chocolate gravy. They've been earning high marks from customers left and right, so stop by their window as soon as you can.
The Green Goat Gourmet
Want food that's from a little further south? The Green Goat serves up Cuban fare with a touch of "Ozark soul." Chef Erin Walsh has worked all across the country. During a stint at a Cuban bakery in Florida, she picked up Cuban culinary secrets that she's brought back here to Arkansas. Try the classic Cubano sandwich stuffed with ham, pork, and pickles, or the Off the Rails version with goat cheese and a spicy mango-pineapple jam. Sides include fried yucca and spicy collard greens.
Nomad's Natural Plate
This Greek spot is gaining popularity by the day. Nomad's is building a reputation for their fresh-made falafel, shaved gyro, french fries, and more. Customers rave that the falafel is never dry, the tahini sauce is light, and the service is a pleasure.
Come to Fayetteville's food trucks for a quick meal on the go, then head back home to study or lounge with friends. When that home is The Academy at Frisco, you'll find yourself at the center of it all. Contact us for more information about our student apartment community.