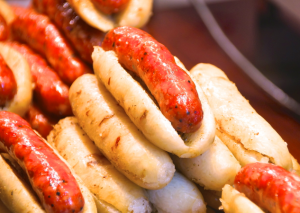 ---
A person's got to eat, right? And sometimes you get hungry during that awkward space after dinner but before breakfast. So where can go when you're craving a midnight snack? When its a really late night (or a painfully early morning) these Fayetteville hotspots have you covered.
Pickleman's Gourmet Cafe
After nearly 20 years working in the food industry, Doug Stritzel finally realized his dream of opening his own establishment. The result? Pickleman's Gourmet Cafe, a casual joint featuring a diverse menu of comfort-food favorites. From subs (try the Hodge Podge!) to pizzas, this place has something for everyone. And with hours that span until 3 am (2 am Sunday-Thursday), it's an easy place to stop when your hunger can't wait until breakfast.
JJ's Grille of Fayetteville
Open until midnight, JJ's Grille advises that you "do your mouth a favor" and enjoy your late night eats there. And why not? With an extensive menu of grill-oriented food, this is the perfect spot to indulge. Try the Bear Trap Burger, featuring green chili peppers, buffalo sauce, jalapeno-lime sauce, avocado, cheddar cheese and an onion ring. If appetizers are more your speed, JJ's has everything you can think of from Cheeze Fries to several varieties of chicken wings (can you handle Nuclear!?).
Buck's of Asia
When you're craving something different, Buck's of Asia is the place to go. Featuring Asian cuisine that runs the gamut from Vietnamese to Chinese to Thai, Buck's of Asia is open daily until 2 am. A steaming bowl of Pho will heat you up on a cool evening while their bubble tea will cool you down during a heat wave. And when you and your fellow late-nighters just want some classic egg rolls, they offer the option to order a platter of ten.
When you make your home at The Academy at Frisco, everything you could want is right at your doorstep...even in the middle of the night! To learn more about everything we offer, please contact us for a personal tour.