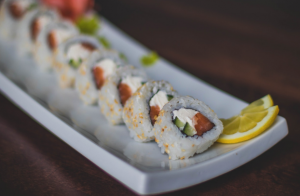 ---
For many, fresh sushi is the finest indulgence available, and true comfort food. Fayetteville boasts some incredible local sushi restaurants, serving up a wide variety of tasty treats every day. One particular favorite among local students is Wasabi, a sushi restaurant that specializes in modern Japanese cuisine. Discover what makes this sushi spot so special, and why the students at The Academy at Frisco apartments love it so much!
Fresh Food
Wasabi goes well beyond basic sushi, with an extensive menu that can suit every appetite, whether you want to nibble or are craving a full four-course Japanese feast! Their selection of signature sushi rolls is truly astounding, with options like the Spider roll, deep-fried softshell crab, cucumber and avocado, topped with eel sauce, and the Big Mouth roll, a deep-fried mini spicy tuna roll inside a spicy crab and avocado roll, topped with eel sauce.
If you want to try something warm from the grill, Wasabi has plenty to suit. Try their sweet and spicy teriyaki chicken, steak yakisoba, rich shrimp fried rice, traditional bulgogi, or spicy ginger shrimp. Everything is freshly prepared, using local ingredients and a made-from-scratch approach that sets Wasabi apart from the rest.
Music and Fun
You will enjoy a fun, relaxing atmosphere at Wasabi, located in the bustling area of Dickson Street, with a spacious patio that often features live music. Gather together with friends and family and enjoy some of the very best food in Fayetteville at Wasabi. They are open Sunday through Thursday from 11 am - 10 pm, and Friday through Saturday from 11 am - 11 pm, so stop in for lunch or dinner and discover your new favorite sushi spot.
Residents of The Academy at Frisco can enjoy incredible restaurants like Wasabi, and so much more! Contact us today to schedule your tour and to learn more about our vibrant community.