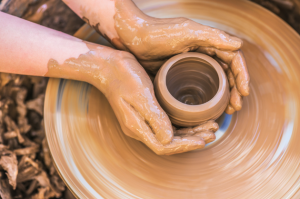 ---
Experience the magic at Terra Studios Fall Music and Art Festival on September 9, 2018 in Fayetteville. You'll find unique song circles, folk arts, local crafts, live demonstrations, food trucks, and more.
The Fall Festival
Instead of standing in front of a typical stage, the song circles will give you a chance to roam around and listen to a variety of music, all playing together at acoustic levels. If you feel like dancing, join local performers for Flow Jam, complete with fire spinning, hula hooping, poi dancing, and other arts. The food trucks include Wicked Wood Fired Pizza, Get Ya Some BBQ, Pedal Pops, and Nellie B's Bakery. This annual fundraiser will run from noon to 6 pm at Terra Studios, a nonprofit devoted to using art to create a better world. Tickets are $15 at the door or $10 in advance.
More Fun at Terra Studios
Visit anytime because Terra is open 7 days a week except major holidays, and admission is free. The calendar is full of free and low-cost activities including classes and workshops, as well as arts and crafts projects for all ages in the new art lab. On Sunday afternoons from March through December, you can also enjoy free concerts by local musicians.
The Art Park
The most entertaining thing of all may be the 6-acre art park itself where hundreds of artists have contributed sculptures, murals, fountains, and more. You can picnic and play on the life-size chess and checkers sets. Fantasy fans will want to visit the Wizard's Cave to see strange creatures and sit on the throne. For a therapeutic experience, walk through the classical 7-channel outdoor labyrinth made of Wedington Limestone. While these paths have always been popular for meditation, hospitals are now starting to use them for patients recovering from strokes and other conditions. Of course, the cognitive effects may be just as good at improving your performance at school or work.
Find a space tailored for you at The Academy at Frisco. Contact us today to find out more about our apartment community.