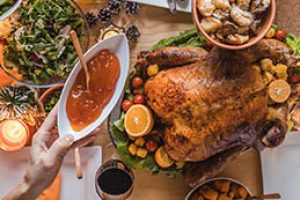 ---
5 Restaurants Open on Thanksgiving in Fayetteville
Whether you're not in the mood for cooking or won't be traveling home for the holidays, finding a local place to dine on Thanksgiving can be tricky. Luckily, there are at least a half-dozen diners willing to serve hungry patrons. From breakfasts to buffets, here's our list of the top five restaurants open near our apartments in Fayetteville this Thanksgiving:
Early Dinner At Emelia's Kitchen
Open from 11:00 am to 3:00 pm on Turkey Day, Emelia's family-friendly kitchen features their classic country cooking fare in a fine-dining, Chicago-style setting.
Located inside the famed Chancellor House in historic Fayetteville, the 6494 Bistro will be serving on Thanksgiving Day for breakfast from 6:30 am to 11:00 am and dinner hours are 5-9 pm.
If a buffet is more your style, be sure to check out the spread at The Golden Corral open all day from 9:00 am to 9:30 pm. Choose your favorites from turkey to ham, pizza, pasta, macaroni and cheese along with desserts available at the end of your feast.
The folks known best for their breakfasts will be open around the clock on Thanksgiving serving their full menu all day. The rebellious holiday diner can choose to enjoy turkey for breakfast or waffles at dinner time.
Speaking of breakfast classics, this popular chain will be open 24-hours at both of their Fayetteville locations. Beyond their morning fare, they'll also be dishing up sandwiches, steaks, chili and classic dinner combinations.
Stepping outside of the luxury at The Academy at Frisco offers diners a number of different choices on any given day, but if you're not the one cooking this Thanksgiving, check out some of these favorites. If you'd like to schedule a visit to our grounds, please contact us to get more information. Happy Holidays everyone!
If you'd prefer to find your inner chef this Thanksgiving, step inside one of these local specialty stores for ingredients and delicacies to serve this holiday season.